This Jalapeno Mac and Cheese is the simplest meal of all time and comes with a homemade, naturally vegan cheese sauce. You can prepare it in just 15 minutes and prepare a delicious lunch or dinner for the whole family. I'll show you how to make simple ingredients on the stove or a Mac version with baked cheese. If you prefer a softer meat, simply replace Jalapenos green chili (Anaheim chili). So easy!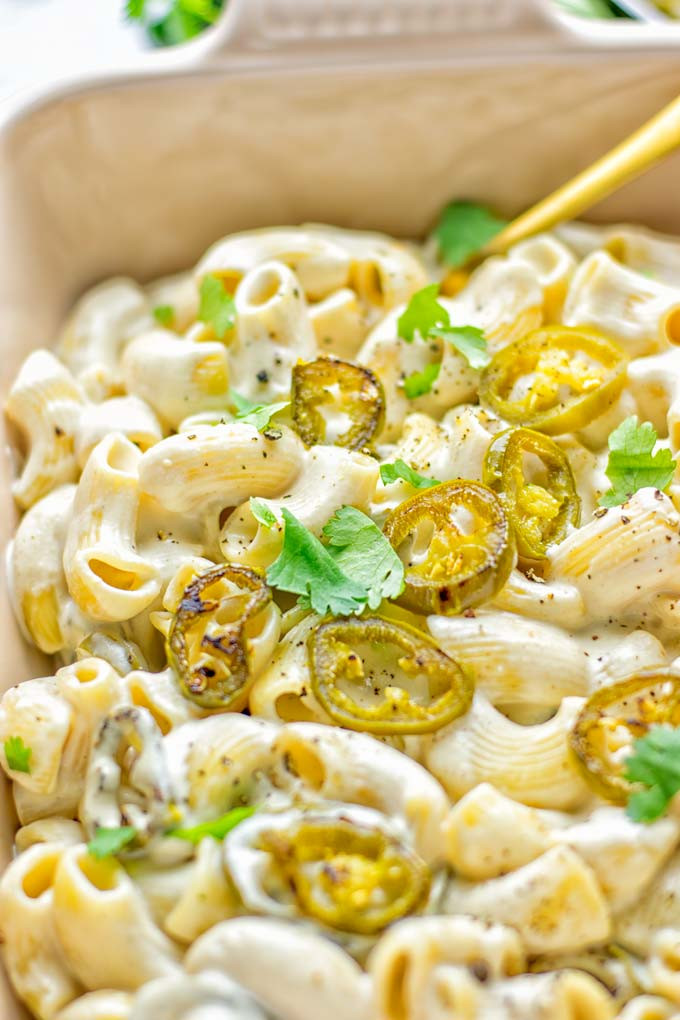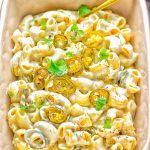 Ingredients
10 oz macaroni noodles (I used gf), uncooked
5 cloves garlic, minced
7 oz can jalapeno slices, drained
1 batch Vegan Cheese Sauce, prepared
7 oz vegan cream cheese
1/3 cup nutritional yeast
salt, pepper to taste
Vegan Cheese Sauce
1 cup cashews (soaked in hot water for 15 minutes)
1 1/4 (300 ml) cups organic vegetable broth
1 Tbs tahini sesame paste
Instructions
Vegan Cheese Sauce
After soaking the cashews in hot water for 15 minutes, drain them and transfer to a blender.
Add vegetable broth and tahini. Process until smooth.
Jalapeno Mac and Cheese
First, cook your pasta according the directions. At the same time heat a bit oil or vegetable broth. Add garlic and sliced jalapenos and roast them for about 3 minutes until they are lightly browned. Set aside.
When the pasta is done, pour the water off and return the drained pasta back to the stove. Mix with Vegan Cheese Sauce , roasted jalapenos and garlic, nutritional yeast, and vegan cream cheese. Season with salt and pepper to taste.
Only step left to do is warming everything for 5 minutes on medium heat. Divide on bowls or plates.
Notes
Nutrition Information. Serving Size: 2 cups. Calories: 581 | Sugar: 4.8 g | Sodium: 991 mg | Fat: 25.3 g | Saturated Fat: 6.5 g | Unsaturated Fat: 4.4 g | Trans Fat: 0 g | Carbohydrates: 69.8 g | Fiber: 5.5 g | Protein: 14.7 g | Cholesterol: 0 g