Incredible Squash Pizza  — There is an amazing array of pizza choices in this town. For under ten dollars one can get a all organic pizza, a spelt crust pizza, a pizza cooked in a wood-fire oven, a gluten free, vegan, or a totally raw one on a sprouted buckwheat crust.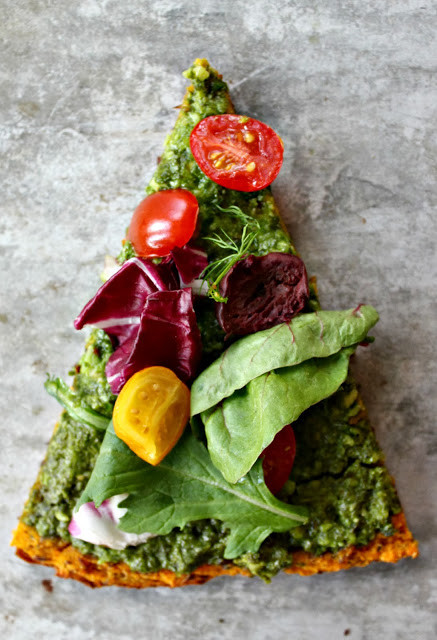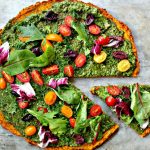 Ingredients
3 Cups Mashed Butternut Squash (1 large squash)
1 Cup Almond Flour (if you want a nut free pizza, try using fine corn meal)
3/4 Cup Garbanzo Flour
1/4 tsp Sea Salt
1/8 tsp Black Pepper
2 Tbsp. plus 1 Tbsp. Ground flax
1 tsp Dried Oregano
Toppings:
Green Pizza Sauce
A handful of pitted Kalamata olives
1 Cup cherry tomatoes (chopped)
A couple of handfuls arugula, herbs, or baby beet greens
Green Pizza Sauce:
1/4 Cup Cashews
1/2 Cup packed basil
1 Cup packed spinach
1/2 Lemon, juiced
Sea Salt and Pepper to taste
8 Tbsp. Olive oil
Instructions
To Make Green Sauce Pizza : In a food processor puree the cashews, basil, and spinach until smooth. Add the salt, pepper, lemon juice, and oil, mix to combine.
Begin by preparing the squash for roasting. Cut the squash in half lengthwise and scoop out the seeds. Lay cut side down in a roasting pan and fill halfway with water. Cook in a 200 C (400 F) oven for 40minutes to 1 hour (adding more water as needed to top up), or until a fork can easily pierce the flesh of the squash. Let cool, then scoop out the flesh.
In a small bowl combine the 2 Tbsp of ground flax  with 4 Tbsp water. Let sit for 5 minutes.
……
……
Visit Incredible Squash Pizza for full instructions
Originally posted 2019-02-04 13:58:19.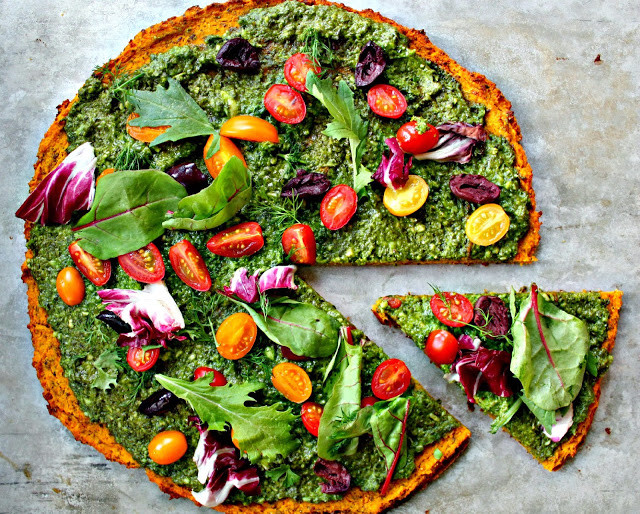 Originally posted 2019-02-04 13:58:19.