Fluffy Ricotta Pancakes — Super moist inside with a flavour that is almost a bit cheesecakey, even when you don't know it's a ricotta pancake you're eating, you know it's different to the usual. These are lovely just served with butter and maple syrup, but I figure if I'm making the effort, I may as well go all the way. By "all the way", it just involves sprinkling halved strawberries with sugar and leaving them to sweat for a bit to soften the strawberries and extract some of the juice. The fancy word for this is "macerated strawberries", but really, all it means is that the strawberries are softened slightly. A perfect match for the extra soft, fluffy ricotta pancakes.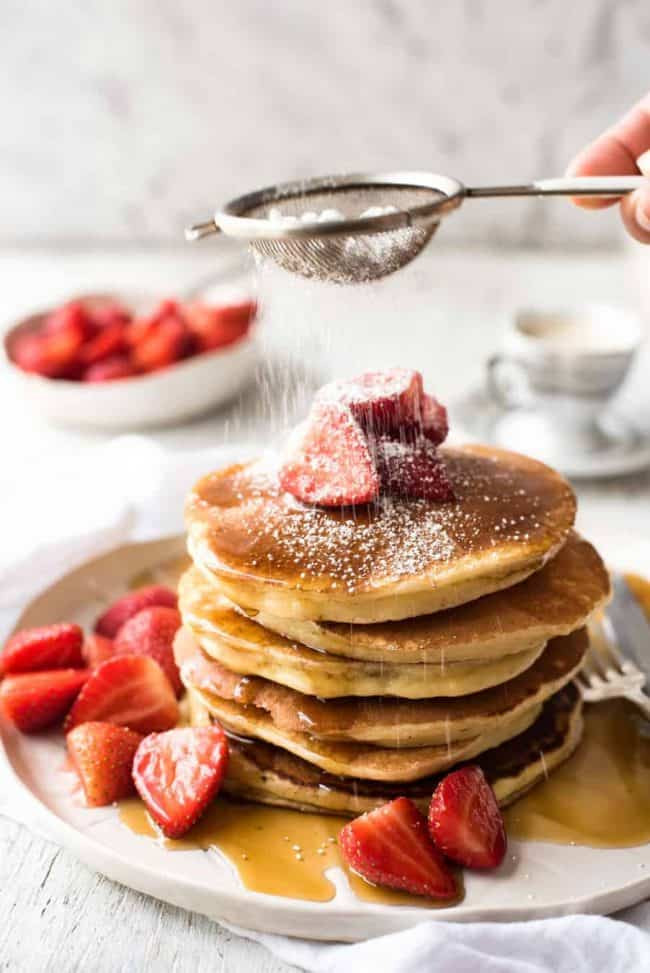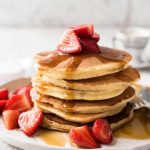 Ingredients
1

cup

full fat ricotta cheese

, not watery (Note 1)

2

large eggs

, separated into yolks and whites

3/4

cup

milk

(full or low fat)

1/2

tsp

vanilla extract

(or essence)

1

cup

plain flour

1

tsp

baking powder

3

tbsp

caster sugar

(fine sugar)

Pinch

of salt

2

tsp

butter

To Serve (optional...but not really!)

8 oz / 250g

strawberries

, halved

1 1/2

tsp

sugar

Maple syrup
Instructions
Place the ricotta, yolks, milk and vanilla in a bowl. Use a rubber spatula to mix (press down on large lumps as required) until there are no large lumps of ricotta.

Add flour, baking powder, sugar and salt. Mix until just combined. The batter should be fairly thick.

Place egg whites in a separate bowl. Whisk vigorously by hand for 30 seconds until foamy. It doesn't need to be stiff, just foamy on top and still watery egg whites underneath.

Fold the egg whites into the batter and mix until just combined. The batter should be quite thick – thicker than normal pancake batter.

..
..
Visit Fluffy Ricotta Pancakes for full instructions
Originally posted 2019-01-25 01:38:53.
Originally posted 2019-01-25 01:38:53.