Fish and chips were turned into a light dish using frozen hash browns. Pieces of fresh cod are skewered, dredged in a light dough and generously covered with fried potatoes, then fried. Sticks are optional, but your hands stay clean during excavation. This makes it easy to roast and take away, and if you keep the fish as short as me, you do not need a ton of oil. As you do at home, you can also easily adapt to food allergies.
The Fish & Chips on a Stick obtained have a super crispy potato coating that looks like mini fries. The fish will be nice and moist inside. Pair with a cabbage salad or salad and your favorite spice will be served at dinner!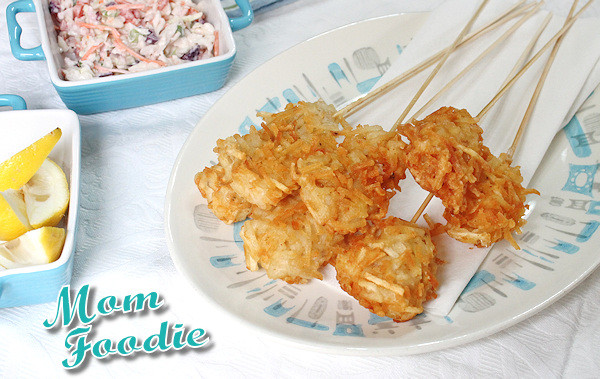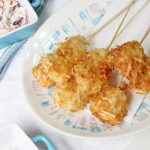 Ingredients
1

lb

fresh cod

1/2

cup

flour

or gluten-free flour

1

tbs.

corn starch

1/4

tsp

Kosher salt

1/4

tsp

paprika

or Old Bay

1/2

cup

milk

or alternative, such as almond milk

frozen bagged Hash Browns

oil for frying
Instructions
Cut the cod into small pieces and skewer. (Fish should not be wider than an inch, or longer than 3 inches).
Put oil in pan over med-high heat.
Mix the flour, corn starch, salt & paprika together, then add milk and whisk well.
Spread some hash browns on a plate, and keep bag out next to it.
Dunk the fish into the batter and coat well. Let excess drip off than place in hash browns.
Sprinkle more hash browns on top of fish, and gently press to adhere. Make sure there are plenty of potatoes sticking to fish. Repeat until all fish is coated.
Once a piece of potato sizzles and quickly floats to the top the oil is ready.
Fry the fish in a few batches, until golden brown and crunchy.
Place on paper towels to drain and cool a little before serving.
Originally posted 2019-01-20 02:54:00.

Originally posted 2019-01-20 02:54:00.