This delicious recipe of Easy Vegetarian Chili is the goal of our family. There is only one thing in one-pot meal, where all the flavors blend together and become so much more than they could have alone. It is full of healthy vegetables and easy to prepare. This is perfect for a a Meatless Monday vegan meal.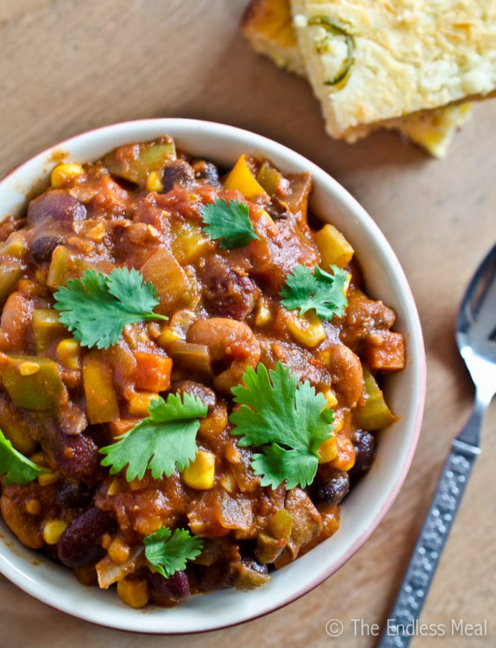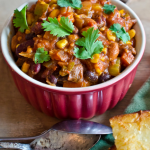 Ingredients
2 tablespoons oil
1 large onion, diced
4 cloves of garlic, finely minced
1-3 tablespoons chili powder (more will be spicier)
2 tablespoons of cumin
1 teaspoon oregano
1/4 – 2 teaspoons of chili flakes (the more chili flakes the spicier it will be)
2 bell peppers, diced
2 medium carrots, diced
3 celery stalks, diced
2 – 28oz cans of whole tomatoes and their juice (use your hands to roughly crush the tomatoes)
2 – 15-ounce cans of beans, drained and rinsed (I like kidney and white beans)
2 cup of frozen corn (you could use fresh but frozen is easy and works great)
Salt, to taste (I like about 2 teaspoons)
Non-veg option: 1/4 cup prawn stock (you won't taste it specifically but it will add richness to the dish)
Optional toppings: sour cream, cheddar cheese, cilantro, diced avocados or green onion.
Instructions
Heat oil in a large pot over medium-high heat. Add onion and sauté for about 3 minutes. Add garlic and sauté 1 minute more. Add chili powder, cumin, oregano, and chili flakes and stir for about 30 seconds.
Add the peppers, carrots, and celery and cook for about 5 minutes, or until they just start to soften. Add tomatoes and their juice and bring to a simmer. Once the chili begins to simmer, reduce the heat to medium-low. You want the chili to be at a low simmer with the lid off.
Continue to cook the chili, stirring occasionally, for 20 minutes. Add beans and corn and let the chili return to a simmer. Cook for 5 more minutes or until the corn and beans have heated through.
Generously salt to taste.
Serve on its own or topped with one (or all!) of the delicious toppings.
Enjoy!