This is an easy and moist chocolate bundt cake recipe.  Top your homemade chocolate cake with chocolate chips and smother it in chocolate ganache for a next cake that everyone will love!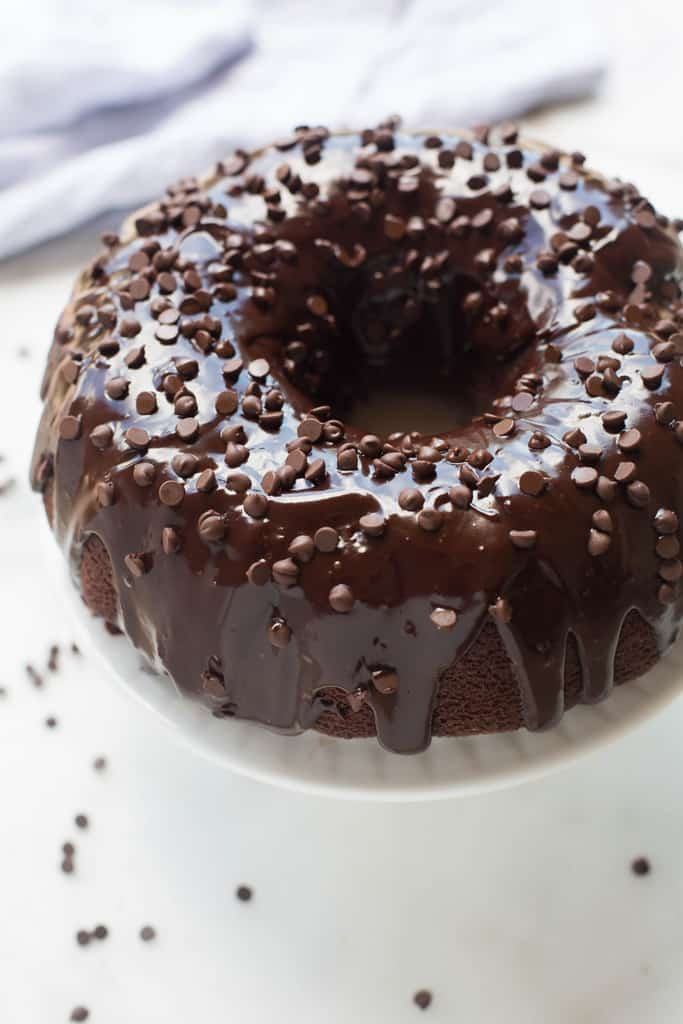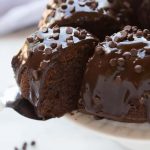 Ingredients
For the Chocolate Bundt Cake:

2

cups

all-purpose flour

2

cups

granulated sugar

1

teaspoon

baking soda

3/4

teaspoon

salt

1/2

teaspoon

ground cinnamon

1/2

cup

butter

1/2

cup

oil

(vegetable or canola oil)

1/3

cup

unsweetened cocoa powder

1

cup

water

1/2

cup

buttermilk

2

large

eggs

2

teaspoons

vanilla extract

1

cup

mini chocolate chips

, plus more for sprinkling on top of cake (optional)

For the ganache:

1

cup

heavy whipping cream

2

cups

chocolate chips
Instructions
For the Chocolate Bundt Cake:
Preheat oven to 350 degrees F.
Grease and flour a standard size bundt pan (make sure to grease it really well so the cake doesn't stick! I spread a thin layer of shortening all over the inside of the pan, then sprinkle a little flour all around and pat and shake the pan until it is evenly coated.)
In a large mixing bowl, whisk together flour, sugar, baking soda, salt and cinnamon, set aside.
Add butter to a medium saucepan over medium heat. Once butter has melted, stir in oil, cocoa powder and water and bring mixture just to a boil, whisking constantly. Pour hot butter mixture into flour mixture and stir.
Stir in buttermilk, eggs and vanilla and whisk mixture until well combined. Fold in mini chocolate chips, if using.
Pour mixture into prepared bundt pan and bake 45-55 minutes or until toothpick inserted in center comes out with a few moist crumbs.
Cool cake in the pan for 5 minutes, then invert onto a wire cooling rack to cool completely. 
Once cake has cooled, make ganache.
Notes
Nutrition Facts. Amount Per Serving : Calories 673 | Calories from Fat 324 | Total Fat 36g 55{e60ce88da641899e69f391bf16a42888542d229f3489f13ac1244d498781d7ad} | Saturated Fat 17g 85{e60ce88da641899e69f391bf16a42888542d229f3489f13ac1244d498781d7ad} | Cholesterol 82mg 27{e60ce88da641899e69f391bf16a42888542d229f3489f13ac1244d498781d7ad} | Sodium 365mg 15{e60ce88da641899e69f391bf16a42888542d229f3489f13ac1244d498781d7ad} | Potassium 97mg 3{e60ce88da641899e69f391bf16a42888542d229f3489f13ac1244d498781d7ad} | Total Carbohydrates 82g 27{e60ce88da641899e69f391bf16a42888542d229f3489f13ac1244d498781d7ad} | Dietary Fiber 2g 8{e60ce88da641899e69f391bf16a42888542d229f3489f13ac1244d498781d7ad} | Sugars 62g | Protein 6g 12{e60ce88da641899e69f391bf16a42888542d229f3489f13ac1244d498781d7ad} | Vitamin A 13.7{e60ce88da641899e69f391bf16a42888542d229f3489f13ac1244d498781d7ad} | Vitamin C 0.5{e60ce88da641899e69f391bf16a42888542d229f3489f13ac1244d498781d7ad} | Calcium 8.9{e60ce88da641899e69f391bf16a42888542d229f3489f13ac1244d498781d7ad} | Iron 11.1{e60ce88da641899e69f391bf16a42888542d229f3489f13ac1244d498781d7ad}