Chinese Hot and Sour Soup with Ramen — It's a very simple recipe that consumes a ton of vegetables and especially mushrooms. Tofu, chicken and pork are all standard ingredients in this soup. This hot-sour Chinese soup with ramen is one of the light dishes that everyone in the family will love. You can reduce the heat if you prefer, but personally, I like this soup to clean the sinuses and keep me warm!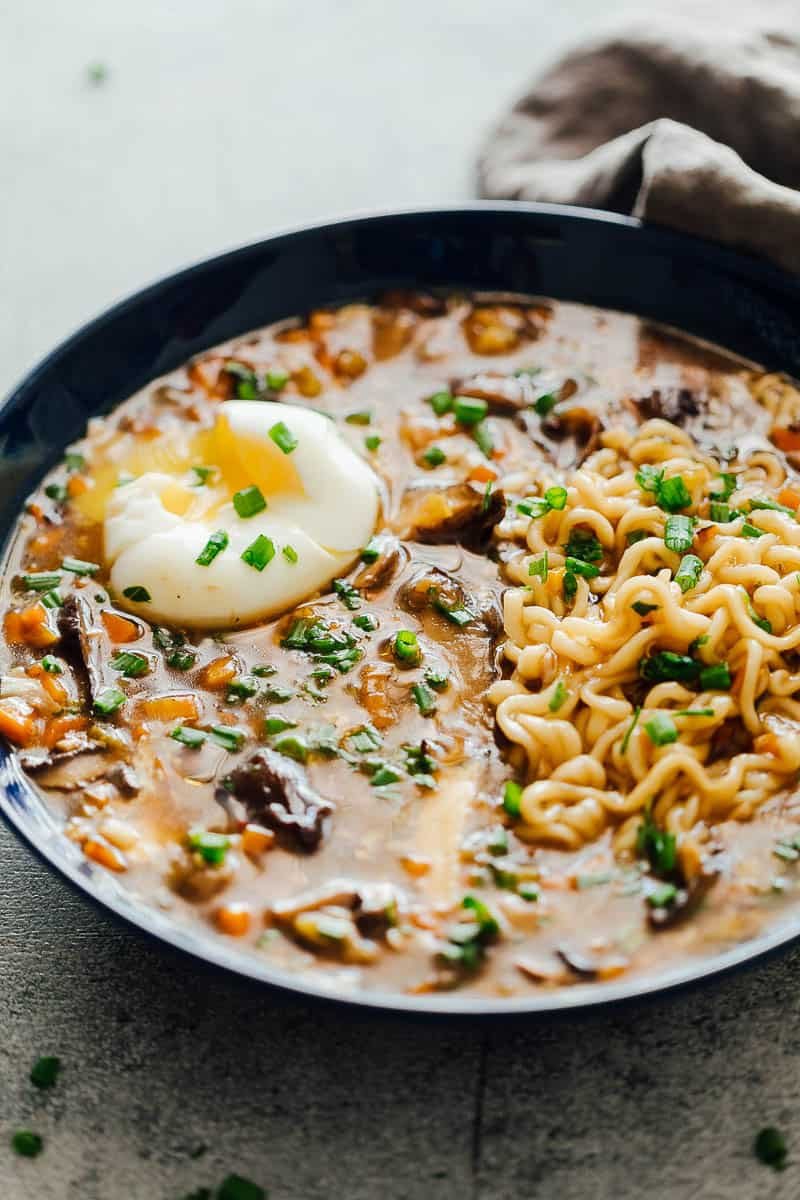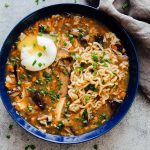 Ingredients
2 tablespoons Vegetable Oil
2 dried Red Chillies, finely chopped (feel free to cut this down to 1 if you like your food less spicy)
1 tablespoon chopped Ginger
1 tablespoon chopped Garlic
1/2 cup chopped Celery
1 cup chopped Carrots
3 cups assorted dried or fresh Mushrooms (I used shiitake mushrooms, wood ear mushrooms and button mushrooms)
2 tablespoons dark Soy Sauce
2 tablespoons light Soy Sauce
1 cup sliced firm Tofu
2 1/2 tablespoons Cornstarch
1 pack Ramen noodles
1 egg, beaten
2 tablespoons Rice Vinegar
1/4 teaspoon White Pepper powder
1/2 teaspoon Salt (optional)
1 teaspoon toasted Sesame Oil
Instructions
Prep the mushrooms: If using dried shiitake and wood ear mushrooms, rehydrate them by submerging them in hot water for 15-20 minutes till they soften up. Reserve the water to be used as stock in the soup. Slice all the mushrooms and set aside.
Saute: Heat oil in a pan and add red chillies and ginger. Saute till the ginger is golden brown and add the garlic. Saute the garlic for a few seconds and add the celery and carrots. Cook the carrots for a minute or two and add mushrooms, tofu, both the soy sauces and six cups water to the pot (if using the stock from mushrooms, reduce the water to 5 cups and add the stock). Bring the pot to a boil and simmer for 5-6 minutes. Add the ramen to the pot.
..
..
Visit Chinese Hot and Sour Soup with Ramen for full instruction
Originally posted 2019-01-24 08:27:57.

Originally posted 2019-01-24 08:27:57.