Are you looking a fun and easy meal? This tasty Chicken Broccoli Stuffed Baked Potato With Cheese Sauce is a balanced meal of protein, vegetables, and carbohydrates all in one crispy roasted potato!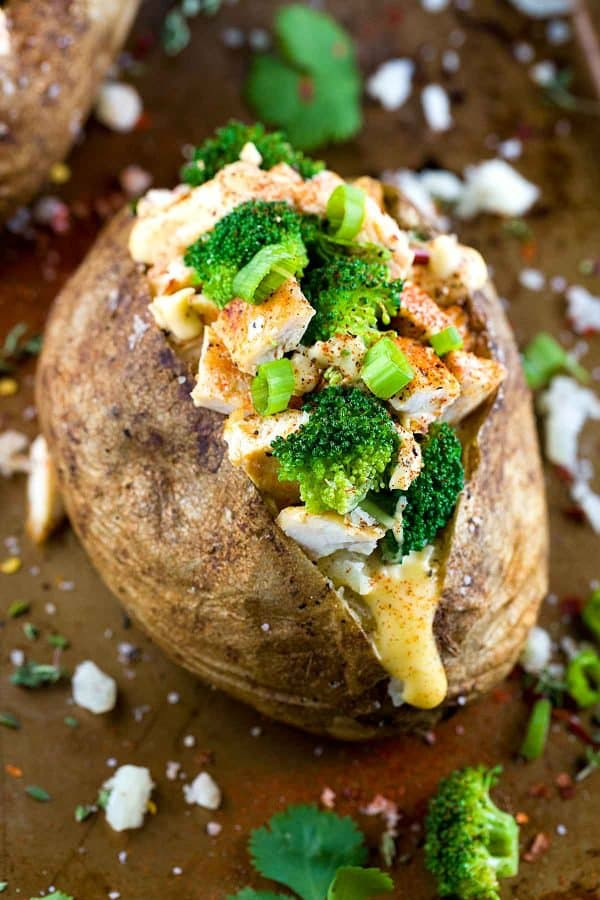 Ingredients
4

large

russet potatoes

,

(9 to 11 ounces each)

1

tablespoon

olive oil

,

(plus more for potatoes)

1/4

teaspoon

kosher salt

,

(plus more for seasoning)

1/8

teaspoon

black pepper

,

(plus more for seasoning)

1

pound

boneless skinless chicken breast

paprika

,

(as needed for seasoning chicken)

2

tablespoons

unsalted butter

2

tablespoons

all-purpose flour

1 1/2

cups

whole milk

1/4

teaspoon

chipotle pepper powder

,

(optional)

1

cup

sharp cheddar cheese

,

grated

4

cups

broccoli florets

,

(cut into smaller 1-inch pieces)
Instructions
Baked Potatoes:
Preheat oven to 425°F. Lightly coat the potatoes with olive oil, sprinkle with salt and pepper. Prick potatoes with the tines of a fork about four times. Place on a baking sheet lined with foil. Bake potatoes for 50 to 60 minutes, flipping over after 40 minutes of baking until skin is crispy and a knife inserted into the center has no resistance. In the meanwhile make the topping ingredients.
Chicken:
Season both sides of the chicken breasts with salt, pepper, and paprika. Heat a large frying pan or cast iron skillet over medium-high heat. Add one tablespoon of oil and allow to heat up. Carefully add the chicken breast and allow to cook for 6 minutes. Flip to the other side, reduce heat to medium and cook another 6 to 7 minutes, or until no longer pink and the internal temperature of the chicken reaches 165°F. Transfer to a clean plate to allow to rest and cool slightly. Once slightly cooled, chop the chicken into ½ inch cubes.
Cheese Sauce:
Melt the butter in a medium-sized saucepan over medium heat until foamy. Add flour and whisk to combine until beige paste forms, stir and cook for about 1 to 2 minutes. Add milk and whisk to combine. Increase heat to high and bring mixture to a boil, whisking continuously. Reduce heat to a medium simmer, cook for 5 to 8 minutes, or until sauce is thickened. Add in ¼ teaspoon chipotle pepper (optional if you want it a little spicy), ¼ teaspoon salt and ⅛ teaspoon pepper, whisk to combine. Turn off the heat and slowly add in the cheese, whisk to combine until the cheese is melted and the sauce is smooth. Taste and add more seasoning as needed. Set aside.
Broccoli:
In a medium sized saucepan fitted with a lid a 1-inch of water to the bottom of the pot and place steamer inside. Bring water to a boil, place broccoli in the steamer and cover. Cook until broccoli florets are bright green and tender, about 2 to 3 minutes. Transfer broccoli to a bowl and lightly season with salt and pepper.
Notes
Nutrition Facts. Amount Per Serving: Calories 547 | Calories from Fat 99 | Total Fat 11g | Saturated Fat 5g | Polyunsaturated Fat 1g | Monounsaturated Fat 3g | Cholesterol 94mg | Sodium 288mg | Potassium 1725mg | Total Carbohydrates 73g | Dietary Fiber 8g | Sugars 5g | Protein 42g | Vitamin A 4{e60ce88da641899e69f391bf16a42888542d229f3489f13ac1244d498781d7ad} | Vitamin C 175{e60ce88da641899e69f391bf16a42888542d229f3489f13ac1244d498781d7ad} | Calcium 20{e60ce88da641899e69f391bf16a42888542d229f3489f13ac1244d498781d7ad} | Iron 27{e60ce88da641899e69f391bf16a42888542d229f3489f13ac1244d498781d7ad}