Cajun-Style Vegan Red Beans and Rice. Traditional red beans and rice are made with sausage, but we do not need it here! I was really shocked when I tried my first bite. They had the same taste as my bowl of kidney beans and rice. Everything is in spices! Without sausage, this Cajun dish turns into a hearty meal, satisfying and healthy, full of fiber, whole grains, protein and of course flavors! With winter approaching, this is the ideal warming ground for enjoying the cold night on the couch.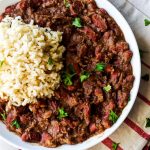 Ingredients
1 pound dry red kidney beans, soaked overnight
1 medium yellow onion, diced
1 green bell pepper, cored and diced
2 medium stalks celery, diced
6 cloves garlic, minced (about 1 tablespoon)
2 tablespoons fresh parsley, chopped, plus more for garnish
1 tablespoon hot sauce
1 teaspoon dried thyme
1 teaspoon paprika
1/2 teaspoon salt, plus more to taste
1/4 teaspoon pepper, plus more to taste
1/8 teaspoon ground cayenne pepper
2 bay leaves
1 32-ounce container vegetable broth
1 1/2 cups dry brown rice
1/2 teaspoon liquid smoke (optional)
Instructions
Drain the kidney beans; set aside.
In a large pot over medium heat, add onion, bell pepper and celery (if oil-free, add a little water to sauté). Cook until vegetables are tender and slightly browned, about 8-10 minutes. Add garlic; cook for one more minute, until fragrant.
Add parsley, hot sauce, thyme, paprika, salt and pepper; stir to evenly coat the vegetables in the spices. Cook for one minute.
Add kidney beans, bay leaves and vegetable broth. Bring to a boil; cover, lower heat and simmer for 1 hour and 15 minutes. Remove lid; let simmer uncovered for 15 minutes.
While the beans are cooking, prepare rice according to package directions.
When the beans are ready, scoop about 1/4 of the beans in a blender or food processor; blend until smooth. Return to pot; add liquid smoke (if using). Stir.
Serve beans with a scoop of rice and a sprinkle of chopped parsley.