Boring, mild chicken and vegetables should not be the first thing you think about when trying to eat healthily. Take them and add a fantastic dose of flavor that is good for you as well as for the preparation. All it takes is a few ingredients and a large pan.
Ginger and garlic are two of my favorite spices to add flavor to any dish. Skip the powder and opt for the new versions – it makes a big difference! In addition, the combination of lean chicken, asparagus and brown rice protein and fiber, so you are full and satisfied for hours. Just a trace of low-sodium soy sauce gives a nice spicy taste without too much sodium, so you can keep your blood pressure at bay.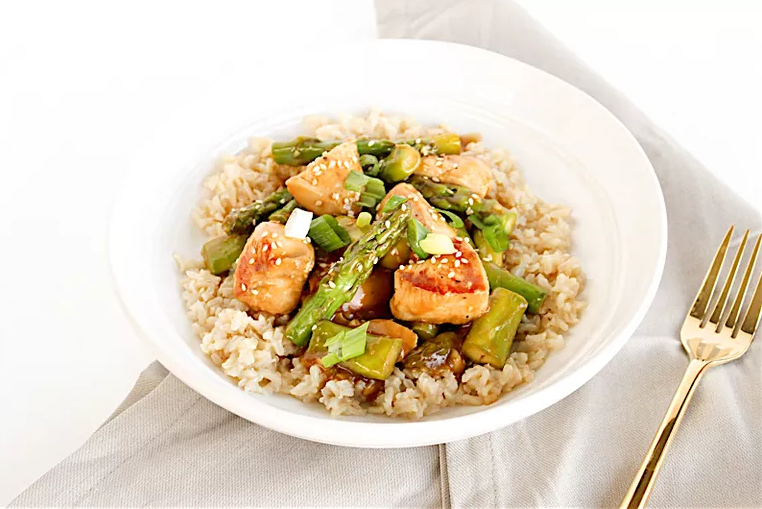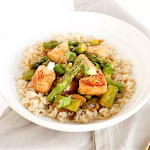 Ingredients
1 tablespoon low sodium soy sauce
2 tablespoons rice vinegar
1/3 cup water
1 teaspoon sesame oil
1 tablespoon cornstarch
3 cloves garlic, minced
1 tablespoon ginger paste (or grated fresh ginger)
1 tablespoon lemon zest
1 tablespoon olive oil, divided
1 8 to 10-ounce boneless skinless chicken breast
1/2 medium onion, sliced
1 pound asparagus, cut into 1-inch pieces
For garnish: Chopped green onions and sesame seeds
Instructions
Whisk together all sauce ingredients. Set aside.
Cut chicken breast into 1-inch cubes and chop vegetables.
Heat half of the olive oil in a large skillet over medium heat. Cook onions in oil until soft, about 5 minutes. Remove from skillet.
Add remaining oil and turn heat to medium-high. Add chicken and cook, turning until all sides are browned, about 10 minutes. Add asparagus and cook, stirring, until asparagus is bright green.
Turn heat to medium-low and add onions and sauce. Cook, stirring, until sauce is thickened and onions are warmed through.
Divide between 2 plates and sprinkle with chopped green onions and sesame seeds (optional). Serve with cooked brown rice or quinoa.
Ingredient Variations and Substitutions
If you have other vegetables that you need to use up, such as carrots, mushrooms, or zucchini, add them.
You can use lean beef, pork, or shrimp in place of chicken if you'd like. Use low sodium tamari instead of soy sauce for gluten-free.
Cooking and Serving Tips
I like to buy the ginger paste in the produce section at the grocery store. It makes prep work so easy so that you can have dinner on the table that much faster.
Prep everything before you start cooking for the easiest cooking experience.
Serve with cooked brown rice or quinoa to round out the meal.
Originally posted 2019-03-12 14:00:11.
Originally posted 2019-03-12 14:00:11.